My Most Active Categories
Spotlight
Some of the sweetest WWII pictures.
"The Kiss of Liberation"
4 year-old Josef Schleifstein sitting on a UNRRA truck after the Buchenwald liberation. Isn't he cute??
Louie Zamperini comes home! (READ UNBROKEN!!)
All "past professions" are totally false. Did you REALLY think I'm a actress, pilot, AND zoologist?
(DaughterofGod9498)
---
"For evil to flourish, it only requires good men to do nothing." -Simon Wiesenthal

"Profanity is the effort of a feeble mind to express itself forcefully." -Anonymous


"You have enemies? Good. That means you've stood up for something in your life." -Winston Churchill

---
3/17/12
3/29/12
4/15/12
4/26/12
4/27/12
2/16/12
(150,000 - 2/1/12)(100,000 - 1/9/12)
12/9/11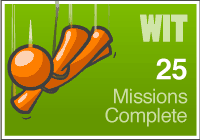 2/7/12
2/15/12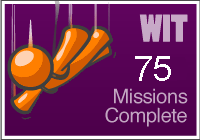 2/23/12
5/1/12
(First WIT to reach 200 Missions)
3/12/11
6/30/11
9/19/11


12/2/11
1/29/12
Monster Task of Doom: Shrek
3/26/12
Monster Task of Doom: Number the Stars (book)
9/21/12
Monster Task of Doom: Auschwitz


(First SPA to reach 50, 75, 100, 150, 200 missions)
The other Monster Task of Dooms were in the following categories (I don't remember for which badge, I think they were in this order)
The Boy in the Striped Pyjamas
Holocaust
Oskar Schindler / Saving Private Ryan
And thanks for visiting my profile!