Started career as professional chef then a district sales manager for a wine & spirits company. Retired in 2005, breeding Araucana chickens.
Topics
Interests
Scuba
Follow
Farm Animals
Follow
Chickens and Roosters
Follow
Service Animals
Follow
Animal Rights and Abuse
Follow
Endangered, Vulnerable, and Threatened Species
Follow
Intestinal Health
Follow
Insects
Follow
Animal Life
Follow
Human and Animal Interaction
Follow
Prehistoric Animals
Follow
Cryptids and Legendary Creatures
Follow
Veterinary Medicine
Follow
Zoology or Animal Biology
Follow
History and Origins of Foods
Follow
Crohns Disease
Follow
Extinct Animals
Follow
Paganism
Follow
Native American Spirituality
Follow
Corrections System
Follow
Police and Law Enforcement
Follow
Improbable History
Follow
Suicide Warning Signs, Statistics, and Prevention
Follow
Spotlight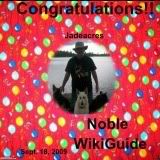 Jadeacres became a Noble WikiGuide on September 18, 2009

Retired professional Chef/ Former s.c.u.b.a. instructor (NAUI /ACUC/CMAS) for a law enforcement agency/ 13 years as a Supervisor for a major distillery & wine import company. Now operating a hobby farm (Araucana & Americana Chickens) near Kingston Ontario Canada.
I can be reached at jadeacres @ wikianswers.com (remove spaces)
http://wiki.answers.com/Q/How do you take off your house arrest bracelet without breaking it
http://wiki.answers.com/Q/Why are girls so weird Your girlfriend got mad when you said 'you stink good' because she was wearing nice perfume
http://wiki.answers.com/Q/How do you make a peanut butter and jelly sandwich
I first found WikiAnswers (FAQ Farm) when I was researching a question about Crohns disease back in 2007 and realized what a great service it provided. I now supervise that category, among several others but the Chickens and roosters is one of my favorites.
I started raising the Green egg producing chickens for my daughter Laura Anne who is a special needs child; her favorite book was and still is "Green Eggs & Ham" by Theodor Seuss Geisel.
Along with my beautiful wife Deborah and two children, two dogs, thirty chickens and a rooster call Alek (torophobia), Jadeacres is our refuge and the place we call home. Both Deborah and myself are Pagan, former Senior Core members of a circle of 30+ members and I supervise that category.
I supervise questions about Crohn's disease as I have had this disease since 1969.
I also answer questions and supervise some cooking/nutrition/SCUBA/Animals,Birds, Insects/intestinal health/Cancer/Paganism/Native American Spirituality/Coffee. My favorite answer included my own poem:
http://wiki.answers.com/Q/Is_there_a_dog_heaven
All about Jade:
http://www.nostupidanswers.com/2008/12/22/fun-farms-and-friendships-part-i/
The pups: Zambucca (black Chow/shepherd) Spirit of Arctica (white shepherd) Rogue (King shepherd) Wandering the back 40
Apple picking time at Jadeacres farm
Spirit of Arctica
Rogue
Zambucca
Our Zam was killed by a cowardly hit and run driver
August 25 2011 Rest in peace Zam boy.
http://www.indigo.org/rainbowbridge_ver2.html
HEY ZAM!!!! Where you at???
Gee!! Snowflakes!! It has a Flavor !
Can you see me now?
YIN & YANG
Green eggs & ham anyone? How about Golden eggs?
Alek (torophobia) and his ladies.
Jadeacres & Wiki_Widow (just slightly younger in 2002)
Laura, the reason Jadeacres has chickens & green eggs



I did enter and place somewhere in the 2011 & beyond ANSWERTHON
with over 250 answers in the allotted 48 Hours



Tastes just like chicken!! Is this supper?