Topics
Interests
Domestic Dogs
Follow
Cats (Felines)
Follow
Care of Fish
Follow
Guinea Pigs
Follow
Care of Reptiles
Follow
Care of Mice and Rats
Follow
Chickens and Roosters
Follow
Cows and Cattle
Follow
Goats and Sheep
Follow
Pigs
Follow
Care of Rabbits
Follow
Service Animals
Follow
Care of Birds
Follow
Dog Training
Follow
Dog Health
Follow
Dog Breeds
Follow
Dog Products
Follow
Cat Health
Follow
Domestic Cat Breeds
Follow
Cat Products
Follow
Dog Behavior
Follow
Dog Care
Follow
Cat Maintenance
Follow
Cat Behavior
Follow
Animal Rights and Abuse
Follow
Animal Parasites
Follow
Endangered, Vulnerable, and Threatened Species
Follow
Insects
Follow
Wasps and Hornets
Follow
Butterflies and Moths
Follow
Spiders
Follow
Ants
Follow
Bird Behavior
Follow
Bird Health
Follow
Bird Maintenance
Follow
Bird Products
Follow
Care of Horses
Follow
Waterfowl
Follow
Animal Life
Follow
Amphibians
Follow
Frogs
Follow
Salamanders and Newts
Follow
Birds
Follow
Flightless Birds
Follow
Birdwatching
Follow
Birds of Prey
Follow
Songbirds
Follow
Fish
Follow
Freshwater Fish
Follow
Saltwater Fish
Follow
Invertebrates
Follow
Crustaceans
Follow
Mollusks
Follow
Crabs
Follow
Lobster
Follow
Shrimp
Follow
Clams Oysters and Scallops
Follow
Squid
Follow
Slugs and Snails
Follow
Mammals
Follow
Flying Mammals
Follow
Land Mammals
Follow
Aquatic Mammals
Follow
Bats
Follow
Dolphins and Porpoises
Follow
Seals and Sea Lions
Follow
Whales
Follow
Walruses
Follow
Reptiles
Follow
Alligators and Crocodiles
Follow
Lizards
Follow
Snakes
Follow
Primates
Follow
Chimpanzees
Follow
Gorillas
Follow
Monkeys
Follow
Marsupials
Follow
Koalas
Follow
Kangaroos
Follow
Rodents
Follow
Beavers
Follow
Chipmunks and Squirrels
Follow
Mice and Rats
Follow
Moles (animal)
Follow
Porcupines
Follow
Wild Cats
Follow
Lynxes
Follow
Cheetahs
Follow
Leopards and Panthers
Follow
Lions
Follow
Tigers
Follow
Bears
Follow
Brown Bears
Follow
Giant Pandas
Follow
Polar Bears
Follow
Camels
Follow
Caribou
Follow
Wild Dogs
Follow
Coyotes
Follow
Dingoes
Follow
Foxes
Follow
Wolves
Follow
Elephants
Follow
Giraffes
Follow
Gophers and Groundhogs
Follow
Hippopotamuses
Follow
Meerkats
Follow
Moose
Follow
Cougars, Mountain Lions, and Pumas
Follow
Snow Leopards
Follow
Raccoons
Follow
Rhinoceroses
Follow
Skunks
Follow
Zebras
Follow
Donkeys and Mules
Follow
Dodos
Follow
Emus
Follow
Ostriches
Follow
Penguins
Follow
Ferrets Weasels and Badgers
Follow
Care of Ferrets
Follow
Gerbils
Follow
Sharks
Follow
Human and Animal Interaction
Follow
Prehistoric Animals
Follow
Dinosaurs
Follow
Thoroughbred
Follow
Arachnids
Follow
Scorpions
Follow
Ticks and Mites
Follow
Otters
Follow
Tasmanian Devils
Follow
Opossums
Follow
Hermit Crabs
Follow
Manatees
Follow
Buffalo and Bison
Follow
Antelope
Follow
Turtles and Tortoises
Follow
Rabbits and Hares
Follow
Centipedes
Follow
Veterinary Medicine
Follow
Jellyfish
Follow
Llamas
Follow
Apes
Follow
Orangutans
Follow
Baboons
Follow
Zoology or Animal Biology
Follow
Animal Behavior
Follow
Lemurs Bushbabies and Aye-Ayes
Follow
Ducks
Follow
Geese
Follow
Swans
Follow
Eagles
Follow
Falcons
Follow
Hawks
Follow
Owls
Follow
Vultures
Follow
Beetles
Follow
Crickets (Insect)
Follow
Locusts
Follow
Grasshoppers
Follow
Caterpillars
Follow
Alpacas
Follow
Sloths
Follow
Hedgehogs
Follow
Gazelles
Follow
Anteaters
Follow
Jaguars
Follow
Feral Cats
Follow
Cockroaches
Follow
Flies
Follow
Betta and Siamese Fighting Fish
Follow
Armadillos
Follow
African Wild Dogs
Follow
Mosquitoes
Follow
Extinct Animals
Follow
Boas
Follow
Cobras
Follow
Pythons
Follow
Rattlesnakes
Follow
Iguanas
Follow
Chameleons
Follow
Geckos
Follow
Rays
Follow
Wombats
Follow
Kiwis (birds)
Follow
Starfish
Follow
Seahorses
Follow
Freshwater Aquariums
Follow
Saltwater Aquariums
Follow
Goldfish
Follow
Dragonflies
Follow
Seabirds and Shorebirds
Follow
Ocelots
Follow
Zoos
Follow
Platypuses
Follow
Horses
Follow
Hummingbirds
Follow
Semi-Aquatic Mammals
Follow
Hamsters
Follow
Care of Turtles
Follow
Care of Snakes
Follow
Care of Lizards
Follow
Turkeys
Follow
Care of Insects
Follow
Stick Insects
Follow
Pugs
Follow
Peacocks and Peahens
Follow
Game Birds
Follow
Pheasants
Follow
Grouse and Quail
Follow
Eels
Follow
Sugar Gliders
Follow
Hyenas
Follow
Labrador Retrievers
Follow
Rottweilers
Follow
Chihuahuas
Follow
Pomeranians
Follow
Schnauzers
Follow
Bird Flu
Follow
Muskox
Follow
Narwhals
Follow
Black Mamba
Follow
Liger
Follow
Tapirs
Follow
Great White Sharks
Follow
Tiger Sharks
Follow
Hammerhead Sharks
Follow
Bull Shark
Follow
Great Danes
Follow
German Shepherds
Follow
Possums
Follow
Shrews
Follow
Yorkshire Terriers
Follow
Pit Bulls
Follow
Dog Breeding and Mating
Follow
Golden Retrievers
Follow
Therapy Pets
Follow
Dachshunds
Follow
Dog Grooming
Follow
Beagles
Follow
Siberian Huskies
Follow
Australian Shepherds
Follow
Guide Dogs
Follow
Termites
Follow
Shih Tzus
Follow
West Highland White Terriers
Follow
Cavalier King Charles Spaniels
Follow
Dalmatians
Follow
Shetland Sheepdogs
Follow
Doberman Pinschers
Follow
Arctic Hares
Follow
Bottlenose Dolphins
Follow
Jackals
Follow
Fennec Foxes
Follow
Red Foxes
Follow
Arctic Foxes
Follow
Blue Whales
Follow
Maltese Terriers
Follow
Australian Cattle Dogs
Follow
Border Collies
Follow
Aquarium Fish Species
Follow
Aquarium Maintenance
Follow
Guppy
Follow
Bulldogs
Follow
Bedbugs
Follow
Corals and Coral Reefs
Follow
Reindeer
Follow
English Bull Terriers
Follow
Parrots
Follow
Greyhound Dogs
Follow
Yaks
Follow
Poodles
Follow
Jack Russell Terriers
Follow
Kingfishers
Follow
Bees and Beekeeping
Follow
Condors
Follow
Herons and Egrets
Follow
Robins
Follow
Orcas (killer whales)
Follow
Woodpeckers
Follow
Praying Mantis
Follow
Toucans
Follow
Flamingos
Follow
Skinks
Follow
Mad Cow Disease
Follow
Boston Terriers
Follow
Cat Breeding and Mating
Follow
Anaconda
Follow
Komodo Dragon
Follow
Crows
Follow
Warthogs
Follow
Osprey
Follow
Red Pandas
Follow
Clownfish
Follow
Fish Breeding
Follow
Mongoose
Follow
Plecostomus
Follow
Horse Behavior
Follow
Horse Breeds
Follow
Horse Diet and Nutrition
Follow
Horse Health
Follow
Hamster Behavior
Follow
Hamster Breeds
Follow
Hamster Care
Follow
Hamster Health
Follow
Bengal Tigers
Follow
Siberian Tigers
Follow
Sumatran Tigers
Follow
Maine Coons
Follow
Persian Cats
Follow
Basset Hounds
Follow
Bichon Frises
Follow
Boxer Dogs
Follow
Cocker Spaniels
Follow
Chow Chows
Follow
Papillon Dogs
Follow
Rough and Smooth Collies
Follow
Saint Bernards
Follow
Springer Spaniels
Follow
Staffordshire Bull Terriers
Follow
Welsh Corgis
Follow
Chinchillas
Follow
Parakeets (Budgerigars)
Follow
Prairie Dogs
Follow
Vertebrates
Follow
Dairy Management and Production
Follow
Cattle Reproduction
Follow
Cattle Diets and Nutrition
Follow
Cattle Breeds
Follow
Guinea Fowl
Follow
Garden Insects
Follow
Fox Terriers
Follow
Cattle Health
Follow
Great Barrier Reef
Follow
Ravens
Follow
Porifera (Sponges)
Follow
Horse Tack
Follow
Anthrax (disease)
Follow
Fisheries
Follow
Dog Shows
Follow
Humpback Whales
Follow
Angelfish
Follow
Tasmanian Tigers
Follow
Siamese Cats
Follow
Piranhas
Follow
Mastiffs
Follow
Bernese Mountain Dogs
Follow
Matadors and Bull Fighting
Follow
American Kennel Club (AKC)
Follow
Clydesdale Horses
Follow
Arabian Horses
Follow
Appaloosas
Follow
Samoyeds
Follow
Miniature Pinschers
Follow
Rabbit Breeding & Reproduction
Follow
Koi
Follow
Alaskan Malamutes
Follow
Chinese Shar-Peis
Follow
Arctic Wolves
Follow
Bloodhounds
Follow
Pekingeses
Follow
Fleas
Follow
Border Terriers
Follow
Red Kangaroos
Follow
Doves and Pigeons
Follow
Capybaras
Follow
Lorikeets
Follow
Magpies
Follow
Rainbow Lorikeets
Follow
Kookaburras
Follow
Rosellas
Follow
Gray Whales
Follow
Sperm Whales
Follow
Beluga Whales
Follow
Monotremes
Follow
Bobcats (animal)
Follow
Passenger Pigeons
Follow
White Tailed Deer
Follow
Tyrannosaurus
Follow
Triceratops
Follow
Apatosaurus (Brontosaurus)
Follow
Velociraptor
Follow
Stegosaurus
Follow
Ankylosaurus
Follow
Iguanodon
Follow
Allosaurus
Follow
Monarch Butterflies
Follow
Clouded Leopards
Follow
Arthropods
Follow
Worms
Follow
Tapeworms
Follow
Earthworms
Follow
Dog Racing
Follow
Horse Breeding
Follow
Dugongs
Follow
Swallowtail Butterflies
Follow
Holstein Cattle
Follow
Jersey Cattle
Follow
Angus Cattle
Follow
Ladybugs
Follow
Bluebirds
Follow
Irish Setters
Follow
Cnidarians
Follow
Muskrats
Follow
Bluegill
Follow
Bass (fish)
Follow
Flatworms
Follow
Afghan Hounds
Follow
Cockatoos
Follow
Cockatiels
Follow
Cassowaries
Follow
Blackbirds
Follow
Gulls (Seagulls)
Follow
Pelicans
Follow
Thorny Devils (lizard)
Follow
Bilbies
Follow
Echinoderms
Follow
Animal Health
Follow
Margays
Follow
Pet Adoption
Follow
Snapping Turtles
Follow
Painted Turtles
Follow
Whippet Dogs
Follow
Box turtle
Follow
Red Eared Slider Turtle
Follow
Yellow Bellied Slider Turtle
Follow
Rat Terriers
Follow
Wallabies
Follow
Swift Foxes
Follow
Black Rhinoceroses
Follow
Wallaroos
Follow
Shiba Inus
Follow
Dholes (canine)
Follow
Garter Snake
Follow
White Rhinoceroses
Follow
Grizzly Bears
Follow
Kodiak Bears
Follow
Black Bears
Follow
Sun Bears
Follow
Numbats
Follow
Caracals
Follow
Amur Leopards
Follow
Fossas
Follow
Servals
Follow
Galahs
Follow
Police Dogs (K-9 Units)
Follow
Borzoi
Follow
Aardvarks
Follow
Poison Dart Frogs
Follow
Tree Frogs
Follow
Pterosaur (Pterodactyl)
Follow
Spinosaurus
Follow
Honey
Follow
Lovebirds
Follow
Woolly Mammoth
Follow
Gibbons
Follow
Beef and Veal
Follow
People for the Ethical Treatment of Animals (PETA)
Follow
Woodlice (Roly-Poly and Pill bug)
Follow
White Tigers
Follow
Pronghorns
Follow
Society for the Prevention of Cruelty to Animals (SPCA)
Follow
Saber Toothed Tigers
Follow
Bonobos
Follow
Sea Turtles
Follow
Tarantulas
Follow
Arachnophobia (fear of spiders)
Follow
Bearded Dragons (Pogona)
Follow
Sand Dollars
Follow
Great Horned Owl
Follow
Wrens
Follow
Trout
Follow
Salmon
Follow
Anoles
Follow
Green Sea Turtles
Follow
Leatherback Sea Turtles
Follow
Loggerhead Sea Turtles
Follow
Canaries (birds)
Follow
Elk (Wapiti)
Follow
Deer
Follow
Sea Urchins
Follow
Grazing and Range/Pasture Management
Follow
Grasslands
Follow
Golden Lion Tamarins (golden marmosets)
Follow
Greyhound Racing
Follow
Gray Foxes
Follow
Whaling
Follow
Minke Whales
Follow
Baleen Whales
Follow
Bowhead Whales
Follow
My Most Active Categories
Spotlight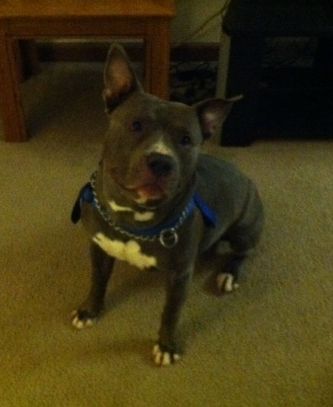 Nitro, my pit bull terrier!

Wanna wrestle?
Secretariat, the greatest thoroughbred ever!
"Wise Men Still Seek Him."
"Pull the tiger's tail, expect to get bitten!"

"Hands off my Healthcare, Obama!"
John Wayne and Maureen O'Hara in "The Quiet Man"
A must see:
http://www.youtube.com/watch?v=YtevF4B4RtQ
Please remember to work hard. Millions of welfare recipients are depending on us!!!!
http://wiki.answers.com/help/mentoring_program