There's more to farming than dirt, cows, and a pair of bib overalls.
Topics
My Expertise
Interests
Agriculture
Follow
Farm Animals
Follow
Cows and Cattle
Follow
Ranching
Follow
Buffalo and Bison
Follow
Mad Cow Disease
Follow
Grasslands
Follow
Dairy Management and Production
Follow
Cattle Reproduction
Follow
Cattle Diets and Nutrition
Follow
Cattle Breeds
Follow
Cattle Health
Follow
Cattle Drives and Trails
Follow
Holstein Cattle
Follow
Jersey Cattle
Follow
Angus Cattle
Follow
Beef and Veal
Follow
Grazing and Range/Pasture Management
Follow
Types of Grasses
Follow
Elk (Wapiti)
Follow
My Most Active Categories
Spotlight
Plenty of pictures below, so please allow them to load.

-The Wild Rose, the Provincial Flower of Alberta, Canada, and what blooms quite often in June to July at home on the farm


To help those of you who come across my profile page and take the time to read or skim through it, here is a list of tips, tricks and warnings I have for all contributors, before I go on to introduce and tell a bit about myself.
The first thing that EVERYONE should know is that this place is a collaborative (or, where everyone is involved) effort in answering and asking questions. No answer is or should be owned by anyone, and every answer is subject to change at some point in time. Do not become offended when an answer that you have worked on for so long gets changed by someone else (unless it's a vandal who posts some unrelated nonsense answer over yours), or someone adds more info to it. More often than not, if your answer is too general in regards to the question, someone with more knowledge will come along and change it or add much more information than what you have already provided. Take this as a learning experience, not as a serious offence.
Note to those under the age of 13 when joining up: you will be caught, guaranteed. It is against Answers.com's Terms of Use (http://wiki.answers.com/about/legal_notices.html#terms) to be signing on as an underage user, and if you are caught, you will be suspended permanently.

No nonsense answers. This includes answering with anything related to "I don't know," posting some BS about "ur mama," spam, answers that make absolutely no sense whatsoever or don't even answer the question, or even porn-related nonsense. That is never tolerated, and you could be blocked if you continue your shinanigans after being warned about it.
No cyberbullying. Cyberbullying, on most accounts, is an automatic blocking offence. You will be blocked indefinitely, no questions asked. Most Supervisors (including me) and CAs (Community Assistants/Advisors) like to use the shoot-first-ask-questions-later policy when dealing with cyberbullies.

Please do not post any personal info, be it ANY emails, phone-numbers, mail addresses, on the Community Forum, answers, or even message boards. I don't care whether that email you posted on a question is not personal or not, it is not allowed.

DO NOT USE WIKIANSWERS AS A MEANS TO ADVERTISE. If you want to advertise a product, leave that on your profile page, but under ANY circumstances you are not allowed to advertise anywhere else. This is regarded as SPAM, and your spamming will be deleted by any Supervisor who finds it, and you will be punished.
No Profanity, Vulgarity, Racism, Libel-ism, Pornography, or anything of that nature. In most serious cases, you may be blocked without even given a warning.

Also refrain from posting anything offensive or obscene on your profile page. That means pictures, the words or phrases you say, etc.


Do not post URLs in an answer. Please use the link "Related Links" to post your link to the answer you provided. This link is located on the blue column on the left of the screen, where you can paste the link and put a title for it to be posted under your answer. If you fail to do so, Dingobot will flag it and one of us Supervisors will have to put your link in the appropriate place. Also make sure the link you are providing is related to the question, and can also be accessed by other users. If not, it will be removed.
Do not plagiarize. This can be a real pain for Answers.com representatives when they have to answer for someone who copied and pasted copyrighted material in an answer on this site. WikiAnswers strives to be a site where unique answers is encouraged, and it is thus best to put answers in your own words instead of copying and pasting them from another source. See the Plagiarism Policy (http://wiki.answers.com/help/plagiarism_policy) for more.
To answer questions, answer as completely and fully as possible, and in such a way that it answers the question. Use good grammar and spelling, and please try to use Spell Check in your answers. Mozilla Firefox has a good system in the browser where it will have a red squiggly line under a word that it suspects is misspelled. Do not use short texting-type versions for words like "you" as "u", or "are" as "r", or "too, two or to" as "2", "people" as "ppl", or anything like that. It actually makes it more difficult to read, especially for the older generation who don't understand all these texting codes. I give trust points to those who answer a question as fully as possible and also answers in such a way that makes sense to me. If it makes sense to me, then it'll make sense to others.
No Blanking answers. Good answers are there for a reason, and it's a real annoyance when someone (who I sometimes refer to as "idiots") decides that that long answer needs to be replaced by some nonsense.
No editing questions for the purpose of completely changing what the original question was asking. Or, to put it another way, don't change questions so that they are asking something completely different to what was originally asked or what the original answer was answering to, and then blanking/changing the answer. This is a royal pain in the rear for Supervisors and CA's because we would have to split the unrelated question out of the alternates, go back to the other question, go to the revert history and copy and paste the original answer, then go back to the question split out and put in the answer. Most of us would get pretty cranky if we had to do that all day, so please avoid doing that if at all possible.
In order to ask a question, go to the top of the page of Answers.com and you will see a big blue or green bar at the top. Make sure the tab is on the green "Ask" tab and that you have selected the "Community Q&A" bullet instead of leaving it at the default "All Sources" bullet before you type in your question. Now, type in your question and hit "Go!" and you will be directed as the next bullet mentions below.
If you are asking a question, make sure you also have good grammar and spelling. Don't be alarmed if the question you asked gets you reverted to another question that may be the same as the one you are asking. If you are directed to the exact same question you asked, then obviously your question is not unique. But, if you have asked a unique question, then you will be able to pick out of the 5 related questions if the same question you're asking is what you're looking for or not, and once that goes through and your question is entered, put it in the correct categories it belongs in. I like using the search part of looking for correct categories, as it will take you to the category your question belongs in much quicker. And voila! Your question has been entered.
If you are looking for questions pertaining to a certain word of interest, go to the top of the page of Answers.com and select the blue tab on the left of the big bar at the top of the page. Enter your word, phrase or question and hit Go! You will then be directed to a page of unanswered questions, and selecting the link that says Unanswered, you will be able to go to another page of Answered questions, which gives answers that you can either edit or read.
Be kind, courteous, and considerate of others, as there are many, many people of different ages, experiences, races, religions, nationalities, ethnic groups, countries and beliefs from around the world that come on this site every day.
Trust points are EARNED, not asked for.
WikiAnswers is NOT a social media site like Facebook, Friendster, Twitter, or MySpace. Nor is it a dating site. It is for asking questions and giving or getting answers. However, our message boards are there also to make friends, but it shouldn't be used primarily as a chat function. That's what social media sites are there for.
Visit the Help Center (http://wiki.answers.com/help/help_center) for more on how to contribute to the site, among other things.
And most importantly, if you have any questions of anything I've mentioned above, or of anything concerning this site, PLEASE ASK, as I will be more than happy to help and lead you in the right direction.
My email is mailto:wildrosebeef@wikianswers.com Or, if you choose, you can also contact me via my Message Board (http://wiki.answers.com/Q/UserDiscuss:Wildrosebeef).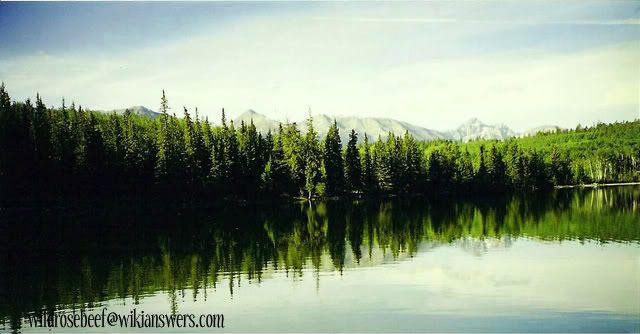 - Scenery at Lake Louise in Jasper National Park, Alberta, Canada.
- WhiskeyJack, the posing steer.
http://wiki.answers.com/Q/Are_cows_happy_to_be_killed
http://wiki.answers.com/Q/User:Herbager
http://wiki.answers.com/Q/User:Horseychick87
http://wiki.answers.com/Q/User:Jam499
http://wiki.answers.com/Q/User:Djblalock
http://wiki.answers.com/Q/User:Charris321
http://wiki.answers.com/Q/User:Divorah
My alias/name is WildRoseBeef, or WRB, or WildRose, or Rose (whichever you prefer) but my real name is Karin. Feel free to call me by any of the aforementioned names.

I am not ashamed to admit that I am an avid agriculturalist, cattlewoman (though an armchair one), farmgirl, have a mild to moderate obsession with everything to do with cattle, as well as agriculture; not to mention I'm also a devoted WikiAnswerer. However, this is not the only site where I can "flaunt my stuff" and share information and even rant about what I am passionate about. Hubpages (http://wildrosebeef.hubpages.com), my blog Truth About Animal Agriculture (http://truthaboutanimalag.blogspot.com) and wikiHow (http://www.wikiHow.com) are two of the most popular writing sites I love to frequent, the former link you can find in the bar above this profile. CattleToday.com and BackYardHerds.com are two popular forums I can be found on as well.
WikiHow.com is a site where I can share my knowledge about farming and cattle by writing how-to articles to potentially (and hopefully) help those know what to expect when dealing with farm life and looking after cattle. It is literally an on-line How-To manual, one which is growing with how-to articles on a daily basis. My profile and the articles I've wrote or contributed to can be seen here: http://www.wikihow.com/User:WildRoseBeef
My blog, Truth About Animal Agriculture, is something which I wish to share my side of the story and show how animal agriculture works, thrives and exists and how it's not as bad as extremist groups make it out to be. Though many blogs tend to be like a daily journal of people's lives and how particular things affect them, this blog is not. Though I inject a little bit of my "personal" life into the posts I create, such personal content is only my experiences working with livestock and/or working on a farm. You can view the various blog posts I've left behind (Warning: quite lengthy reads), and feel free to leave a comment on any of the posts if you so desire.



As far as this site is concerned, my main stomping-ground lies in the Cows and Cattle categories. Some information that you may find helpful regarding these beasts is as follows:
Cows are mature female bovines that have had a calf. Cows are those that are over 2 years of age.

NEVER refer a cow as a "he."
There is no such thing as a male cow or a female cow. A cow is a female, period.
Bulls are intact males that are used for breeding. There are no such thing as a female bull or a male bull. Bulls are male, period.
Steers are castrated male bovines. They can also be called bullocks.
Heifers are female bovines that have not had a calf.
A calf is the young of a cow.
Gestation period for a cow is 9 months or ~285 days.
Don't confuse Estrus with Estrous. Estrous is the period that a female animal experiences "heat" periods and "no-heat" periods. Estrus is the period where a female is in heat.
Cows DO NOT have periods (also called the Menstrual cycle). This is ONLY a human thing.
Heifers are ready to breed at 15 months of age.
Heifers become cows when they calve at 24 months of age.
Cattle can be dangerous even when they don't mean it.
NOT ALL BULLS HAVE HORNS. A bull isn't necessarily a bull if it doesn't have horns. Cows can have horns too, and they can also have no horns. So NEVER judge the sex of a bovine by its horns.
Milk is generated by the udder of a cow.
Male cattle cannot make milk.
Milk DOES NOT have pus in it. If it would cows, or any mammals of any sort, would not exist as they do today.

It won't rain if you see a cow laying down.
Cow tipping is a myth.
Cattle don't sleep standing up
Cattle chew what is called cud, which is just regurgitated partly-digested feed.
Cattle have ONE stomach with FOUR chambers. They are called Ruminants.
Cattle eat grass and hay, thus are HERBIVORES.
Cattle do not have upper incisors, only lower ones. They do, however, have top and bottom molars.
Backgrounding means young weaned steers and heifers being fed a forage-based diet (of primarily grass and hay) before going in a hot finisher diet.
Cow-calf simply is an operation that raises cows with calves.
Finishing cattle means cattle go on a higher-nutrient diet to gain weight quicker before being slaughtered.
When asking a question about "cows" in general, be more specific of what kind of "cow" you are referring to: Open (unpregnant) cow? Heifer? Bred Heifer? Lactating cow? Dairy cow? Beef cow? Steer? Bull? Young cow? Old cow? Also remember to try to post age and possibly weight of the cows in question. You can do this by posting in the discussion area of your question.

When asking a question about feeding cattle hay, please try to be more specific, like include what kind of "cow" you are referring to, age of this "cow", type of feed, etc.
When asking about stocking rates and anything to do with pasture, specify your location. Chances are you will get an answer to check with your local county extension agent for more info.
Seek a veterinarian for any questions resulting in and concerning the health of your livestock. Only ask on here if you want to see what other people have to say, not as instructions for what to do NOR as a last resort. DO NOT sit around waiting for a question to be answered while your animal gets sicker and sicker! For most of you who do ask health-related problems with cattle or any other animals, I hope you have called your veterinarian immediately before or after you've asked your questions on here.
And most importantly, VANDALISM IS PROHIBITED.
So, if you have any other questions relating to cattle, feel free to contact me via email or my message board and I'll do my best to help you out.
- ShorthornX steer and buddies in a green lush pasture. On the far left is a Charolais steer; on the far right, is a Limousin steer. The others are RA (red angus) crosses.



-Charolais-Hereford cross steer doing very well on pasture...just look at the rear on this guy!

- Chow time! Mutt steers devouring the good hay that I fed them. From left to right: Hereford-Red AngusX, Charolais-HerfX, and Limmi/Red AngusX.
- A few soggy Angus, AngusX and SimmiX calves a couple days after they arrived to their new home.
- Red Angus and a brockle-face. It's autumn here, ready for the snows to come anytime.

-Charolais steer and friend

(Warning: If you don't like reading LONG autobiographies like this, stop reading now. You can just scroll down and enjoy the pictures I've posted.)

I am born and raised a farm girl, with farming in my blood coming from both parents' side. I was raised on a mixed farm, or one that raises crops and livestock, north of a small town in a large area of the province that the government calls Northern Alberta (we are, in fact, located near the central point of Alberta, not in the northern area). On this 320-acre farm, we (being my parents and I) bought and sold stocker steers, raised our own hay, and grew barley and canola cash crops. My Dad also farmed his brother's and dad's quarter sections too, though in the past 10 years prior to him passing on suddenly (and albeit unexpectedly), it was just his brother's quarter section (160 acres) he farmed in addition to his own two quarter sections. Grandpa's quarter section had been rented out to a neighbour. Today, as I sit here typing this, these other quarter sections are also rented out by this same neighbour, only this neighbour now owns what was Grandpa's land. Yes, times do change, for better or for worse.
Farming in my ancestral roots dates back to times my ancestors were living in Sweden and Scotland, as well as in Germany and even for a short time in the United States before the Revolutionary War. On my father's side, my great-grandpa we call Pa came over from Sweden in the early 1910's to work in the coal mines down in Nevada for several years before heading north to Alberta. There he became a dad to 2 boys, a grandpa to 11 grandchildren, and now a great-grandpa to over 50 great-grandchildren, including me. Pa, unfortunately, died tragically many years before I was born from being crushed by a bull. On my mom's side, her roots date back to the Loyalists who fled to Canada during the Revolutionary War in the United States. Many of my great-great-great-great or great-great or whatever-grandparents, aunts, uncles, cousins, etc., were involved in agriculture and farming.
- Harvest time. Dad's harvesting barley here. The trees are almost in their golden glory, but not quite.
But just because I have farming in my blood doesn't mean I have an exception above everyone else. The main reason I am so interested in farming is because I have been exposed to it. But I honestly cannot put a finger on why I have become interested in farming like I have. I guess it's partly because my parents encouraged me to be more involved in the practices and management of the family farm instead of sitting in front of the TV all day. (I don't mention computers here because I never got to "own" a computer until I was in grade 12 and in University. Yeah, it's crazy I know.) And you know what? I loved it. I still do. Dad had me help him with fixing machinery, running around with him on the tractor or in the grain truck, going out with mom for lunch, etc. I loved (and miss) those times when I would sit in the tractor cab with Dad when he'd be baling hay, seeding, spraying, swathing, combining, etc. I thought it was the coolest thing to sit in the back there and watch how the swaths were fed into the combine, or how fast those blades on the haybine cut the grass down for hay. But my favorite times helping him out were with the cattle we had.
- Me getting in a bit of last-minute enjoyment of the company our beef steers before they go to the feedlot. I believe I am only +/- 12 years old here.


Ever since I was little I was interested and loved animals. My first encounter with a real furry friend was on the first day I ever went outside: I was one years old at the time, and a friendly neighbour's cat was around. My folks have a picture of me with a big grin running from ear to ear when I seen that kitty cat. I even had the courage at that age (the cat was half the size I was, by the way!) to pet it and stroke it. I don't think I could've been happier!! As with the cattle, I don't really remember when I got the courage to go up to the fence where the big steers were, pull up a handful of grass and feed them it. Maybe Dad was the one that showed me how, and eventually I got confident enough to do it myself. I think that started when I was around 2 or 3 years of age.
But my first really scary experience was when I think just turned 4 years old. I was playing with some toys by the fence when all of a sudden I heard this CRACK!! POP!! I looked up and seen this huge white shape come leaping out of the corral by the barn at me! That caused me to scream bloody murder and run hell-bent straight for the house. Dad, working at the quonset like he always did, heard me and came running as fast as he could for me, and met me right at the house's door. I was just terrified, pointing and screaming something like "The bull got out! The bull got out!" He got me calmed down a little, put me inside where Mom was there to soothe my shattered nerves, and must've went out to check where that Charolais bull had gone to. Apparently, as Dad had told me when I was older, that Charolais bull was so surprised from the reaction he got when he attempted his escape, he just kinda stopped, stunned a bit by this tiny little banshee screaming bloody murder and running away to the house!
-
Charolais steer, same breed as the bull that scared me in the previous story.
My second scary experience with cattle was when Mom and Dad were busy fixing fence, and they had left me in the truck. I think I was around 4 or 5 at the time. Now I can't remember clearly what I was doing or what I was thinking, but I think I started to get worried and panicky because Mom and Dad disappeared somewheres I couldn't see. So I thought it safe to go out myself and go find them. But I didn't see the brockle-faced black steer that seemed to come out of nowhere. First thing I seen was he had his head lowered and he was coming straight for me! I think I screamed for help, and raced back to the truck (possibly with that steer hot on my heels!) and jumped in the cab, shaking with fright. Then Mom and Dad came from wherever they were to see what their little girl had been up to this time. They seen that I was in the truck, but was looking really scared. After I told them what happened, they told me to stay put in the truck, and they'd be right back. I didn't venture out after that!
When I got older, I gained more confidence in being around the cattle. I realize now that when you're little, you only have two speeds: run and stop. To a cow or a steer, you look like a little animal, like a dog or a cat, or even the size of a predator like a coyote, and you are perceived as a threat to them. So, little kids who do not listen to their parents when told to stay in the truck when they are out fixing fence, or venture too close to a herd of cattle, will most likely get charged at, just like what happened with me. But, when a kid gets to be at least 8 to 10 years of age, the tables tend to turn. You are now the size of a small adult, and tend to handle yourself like one (if you have been taught to do so). With this, it is less likely that a steer would charge you. And it was at this age that Dad started getting me involved in helping him process, feed, and handle those stocker steers of ours. And I believe it is this age where I started to love being around cattle.
He started me by having me handle the hot-shot or electric cattle prod. By golly did I ever get good at it! After a year or so of that, he let me get in with the cattle to help sort and herd them into the handling facility to get them needled and processed. He also had me start on looking for signs for sick calves (weaned steers that had just arrived), and to let him know if/when I seen any. I think I was around 8 years of age when I seen my first dead steer. I didn't know what to think; it was sad, and yet kinda, well, odd. But please don't ask me why.
However, my first time I've ever seen a steer kill another steer was a day I'll never forget.
It was a sunny day, and Dad was busy with the mix-mill crushing up barley and blowing it into the chop house. I came out to watch what he was doing, then started running towards him when the tractor horn started honking like crazy. There, to my absolute horror, was a brown white-faced steer with horns that must've measured around 2 feet long from tip to tip (the individual horn on his head was probably around 10 inches long), holding his horn ruthlessly to the throat of another steer. This steer was another horned animal, a Charolais, and as Dad was honking madly and I was running towards the action, I seen that poor Charolais steer's lips, nose and tongue turn blue, and his legs were thrashing madly in the losing battle for his life. Then just like that, the life left him. Suddenly, either from the tractor door slamming open, or me hollering at Dad, that brown-white-faced murderer fled the scene with the rest of the herd. Dad was hollering at that white steer to get up, but I had to yell as loud as I could, over and over, "HE'S DEAD, DAD!!! HE'S DEAD, HE WON'T GET UP ANYMORE!!!" After Dad shut off the tractor I was finally able to explain what I'd seen (of course after he asked me what the hell happened). We were both devastated, maybe him more than me. We had to get tie up the steer and haul him out to the back pasture where Nature would take care of him. Man, it was horrible. I can't remember how old I was then, but I think I may have been around 12 or 13 at the time. Until that day, I had never believed that cattle had the capability of murdering each other. And it was that day that Dad realized that it was no use going around having cattle horned like they were. Since then, he has dehorned every steer that has stepped on this property.
-
Our "stag" bull that came with the 2004-05 steer herd. A quiet boy, but we had no room for bulls on our farm.


With every steer herd, there's always a chance that a bull or two will sneak in with the bunch. So I've taught myself to look for bulls, moreso after seeing my first bull calf when I was maybe around 11 or 12 years of age. Since then, with a little help of course, I was able to find a bull among the steer herd. But there was one year when we had three bulls in our steer herd that really proved my ability to not only find scrappy-looking bulls, that, to the untrained eye, looked just like steers that they were with, but also to separate them as well, all on my own.
It was, I believe, during Reading Week (in the middle of February), and in my second year of my studies at University that this took place. I had been bored with being cooped up in the house for the last few days, and thought I would take a bit of a walk out in the corrals to visit the cattle. I hadn't asked Dad whether he had put the bulls in yet, as I thought I would just go out and have a look myself. A few weeks before, I had been out with the camera taking pictures of the three bulls I found, as well as the steer with an abscess on his shoulder. So, this day, I thought maybe it would be a good idea to get those bulls in while I could. Dad had been tossing the idea around with me and Mom, but apparently he was a bit busy with other things that he didn't have the time. I think I said I could do it for him, but he said it's okay, he'll get them in another time. But, me being me, I figured, gosh darn it, these three are already showing signs of bullying the other steers, it's better to do it now or it'll never get done! I tried at first by herding them into the smaller corral one by one. After ten or 15 minutes of unsuccessful attempts, I sat on the fence to catch my breath and think. And a plan, albeit a very good plan, came into my head, from what I had been studying at University:
"Cattle are herd animals, they work better in a herd environment than if they were handled individually. It's less stress on them and the handler."
BINGO! So with this cunning and shrewd plan in mind, I closed the gate by the barn, closed the gate that had access to the side pasture (first making sure none of my "victims" where in there [the "victims being the three bulls and one abscessed steer]), and opened up the gate that gave them access to the front. Then I walked to the back of the big main corral, and started herding and pushing the several groups of steers that were either eating at the several bales or lying down chewing their cud, up towards the front. At that time, we had over 85 steers. Then I used the flight-zone technique that Temple Grandin (http://www.grandin.com) has talked about, and herded them, calmly though, towards the opening to the front corral, partly herding them from behind and partly letting them see it themselves. There were already a couple bales of hay setting for them right there, which worked out perfectly, and they went straight for them. I let half of the herd in to the front, then shut the gates, and checked to see if any of my "victims" choose to stay behind. After carefully scouring the group that was left behind, and satisfied none of the bulls or abscessed steer had snuck behind, I went in to do the sorting.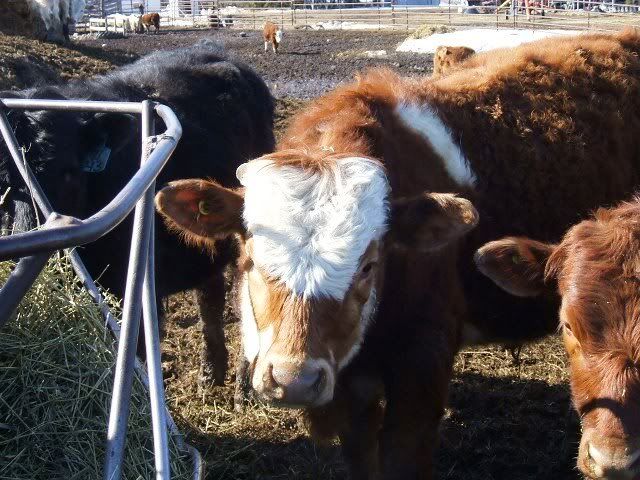 -
The three bulls I had to separate from the steer herd Winter of 2006; these are the "before" pictures

-
The "after" picture in the spring with an additional member (just to calm them down a bit); the fourth steer I had to get in is on the far right.


It went easier than I thought. After opening up the big gate to the small corral by the barn, all I had to do was check the two groups around the bales for the four animals I was looking for, tap on their back sides, and work and herd them into the open gate. They went in two by two, and I didn't even have to chase out any stragglers to keep them in. It all went so fast and so slick I can't even clearly recall the exact details of how I even got them in. All I know is that I just used my instincts, used the techniques I had learned over the years of helping Dad work and herd cattle (like spreading your arms out like an eagle to make yourself look bigger, keeping calm, walking towards them, using their flight zone areas, etc.) and in they went. After I shut the gate behind them, I re-opened the gate that lead out to the main corral, and chased out the rest of the herd. Then I closed it, after making sure ALL of the animals (minus the four ones I needed to get in) were out, and opened up the corral by the barn to let them have access to the two bales and water.
I've never been more proud of myself then. Dad and Mom were pretty surprised, and quite proud, when I told them I got those four animals in by myself. I know Dad appreciated the help, as he had a lot of things to do, and didn't have the time to go chasing after a few bulls by himself. I think he was waiting for the chance for someone to help him get them in, but didn't bargain on someone getting them in all by themselves. Of course, he's handled cattle by himself before, but there's always things to do on a farm, often more than what a body can handle in a single day!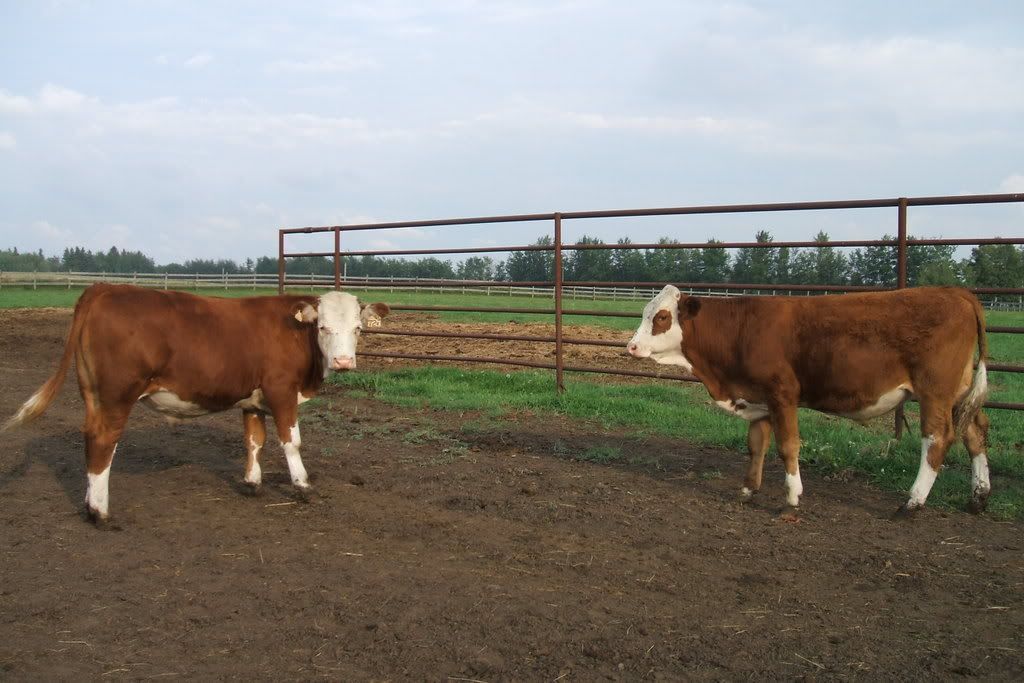 -
I can easily tell which is which between these two hooligans.
Now for me, it was really easy to distinguish which animal is which because I have this system of telling which animal is needing to go in, or which animal is the most friendliest, etc., and that is by using the recognition of body/head size, type, and shape, as well as coat colouration, and even face shape. To me, recognizing a certain bovine is like recognizing a human friend or stranger. Many people believe that cattle all look the same, but that's because they've never looked close enough nor have ever noticed the subtle differences between each individual animal. I must say though, it is much easier to distinguish animals with different coat patterns than animals that have the same coat colour. But if you get really good at it, you can even tell the difference between one Angus cow from another Angus cow by simply noting the subtle differences in face shape and body shape, just like in humans. Fascinating stuff, isn't it?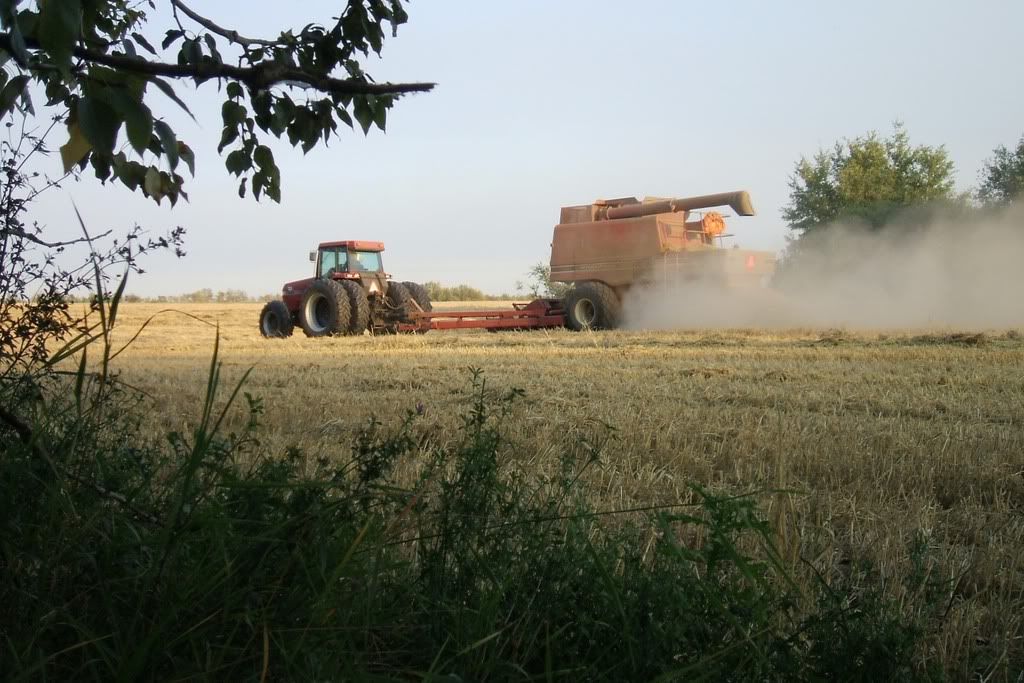 - our Magnum 7240 Case IH tractor pulling our pull-type 1430 (?) Harvester (we called it the combine.)
-
Whoops! Auger blew down in a windstorm around the fall of 1996. Luckily nobody was around to be injured or worse.

Tractors and machinery aren't really my thing, unless I'm driving them. As far as mechanics go, I'm usually worse at sorting out mechanical stuff than I am figuring out what is wrong with a sick cow. I can tell the difference between a cap bolt and a lag bolt, and know what a screwdriver, a socket wrench and a open-ended wrench is, and I also know that it's "lefty-loosy, righty-tighty" for most bolts and screws, but other than that, I'm at a bit of a disadvantage. But hey, I'm willing to learn.
I actually first started learning to drive when I was around 16, and first learned on the big blue grain truck, which was a standard. Dad had me learn on this truck because he was wanting to do some silaging, and needed a couple trucks (me in one, mom in another) to help him with silaging. You'd think I would've got my learner's by then, but you'd be wrong. When I started learning on the old Ford (which was automatic), things progressed from there, from obtaining a Learner's Permit in 2009 to getting my probationary Graduated Driver's License in 2011. A couple years later, with at least a thousand hours of experience behind the wheel (especially driving the winter roads like the crappy winter of 2012-13, and having to travel a half-hour to work and a half-hour back home again), I've had a clean driving record (knock on wood!) and may get my actual Class 5 sometime in the future.
-
silaging time, using the silage dump wagon instead of the trucks.
There's something about farming and agriculture that makes a person a more responsible individual. And it all starts as a kid. From a very young age, I learned more about farm safety from my parents and from my experiences than I could ever learn from reading a kid's magazine on farm safety. Here's a list of what I've learned over the years:
Be where the operator can see you, whether he is on a tractor, on a swather or in a combine.
Always let someone know where you are going and when you will be back at all times
Never overestimate your strength and speed when handling both machinery and livestock
Always have an escape route
NEVER climb over a running/spinning PTO shaft. ALWAYS walk around the machine to get to the other side.
ALWAYS make sure the tractor and/or machine is turned off before you climb in to fix something or have a look at something.
Check that the machine you are about to turn on is in the NEUTRAL or PARK position BEFORE you turn it on. Also, be aware of what's around you before you turn the machine on OR start moving. If any children are in the area, make sure they are at a safe distance (which is at least 50 to over 100 feet away) and that they STAY where they are. NO exceptions!
If a child is wanting to go somewhere away from where you are working, make sure you have told the child before hand that it is very important that they tell you where they are going before they go ANYWHERE.

When working from any machinery, always keep an eye for things that are beside and behind you, don't just focus on what's in front of you.
Do not wear loose clothing nor wear your hair loose
Wear eye/ear/foot protection when and where possible
Be aware of your state of mind. If you are feeling tired, stop what you're doing and go have a coffee break or a short nap. Fatigue tends to be the number one cause in farm accidents and deaths related to farm accidents.
NEVER get complacent around machinery OR livestock, as complacency is also a killer.
Never EVER step in the area where grain is being fed out by an auger, as you could get caught up in the auger shaft or get buried alive by the shifting grain pile
NEVER have children play in a grain bin with grain in it, no matter if it's full or not. I've heard a few stories where some kids died of suffocation when they got trapped in a grain pile that suddenly shifted on them
ALWAYS keep shovels, pant legs, sleeves, collars, loose hair, etc., away from a running auger or PTO shaft
Never get confident that hydraulics will always work and keep in place, because they can and will fail
NEVER TRUST A BULL, though horses are known to kill more humans than bulls are, and NEVER make a pet out of a bull, EVER.
When children are around machinery loose gates or panels or even livestock, adult supervision is MANDATORY.
Store chemicals and pesticides away in a locked secure area
ALWAYS watch the power lines, especially with transporting augers
Farm machinery are NOT toys, so NEVER let a child climb up in a tractor by him/herself and expect him to know that anything he pushes or pulls won't cause the tractor to move or start to operate. If necessary, remove the keys from the ignition when machine is not in operation.
Wear proper clothing when working machinery and working with animals. NEVER operate machinery or work with farm animals in high-heels or loafers. Safety boots, tight or regular-fit work-type blue jeans, a shirt and a jacket, as well as gloves and a hat, are the best for working on the farm.
USE YOUR COMMON SENSE! Often it's better to listen to your gut instinct instead of your intellect. If you are second guessing yourself, chances are it's not worth the risk to take.
REMEMBER Murphy's Law: Anything bad that CAN happen, WILL happen.
If you have any questions, please ask. And for heaven sakes BE SAFE!!

- Me shovelling dried accumulated cow crap out of our little old barn.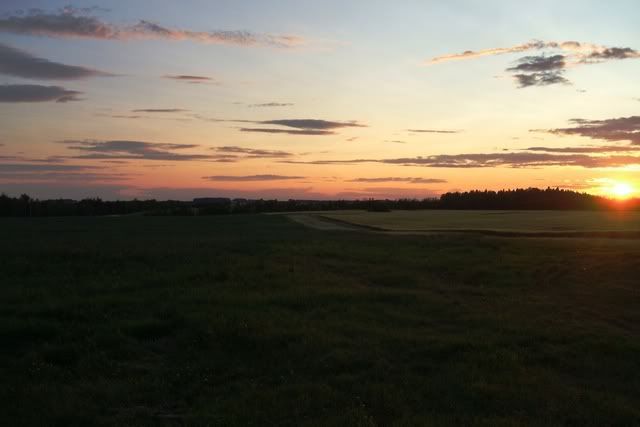 - Sunset over the barley field.

- Picturesque portion of a Twister grain bin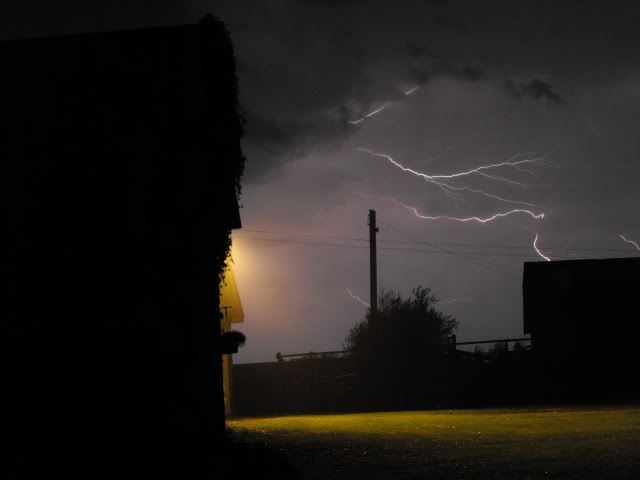 -Lightning over the farm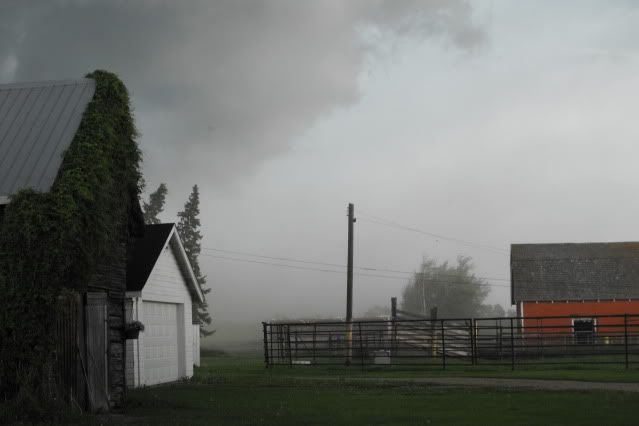 -"Little" tornado that was, thankfully, short-lived but touched down near the farm...yes, Alberta does get its tornadoes too.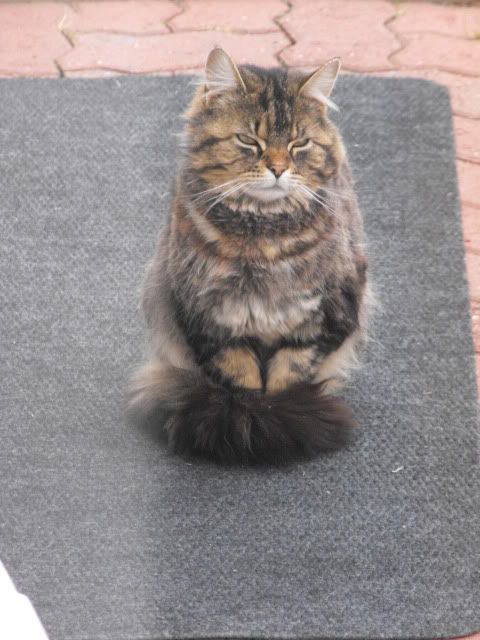 - Button sitting nice and lady-like


I have two cats, both are outdoors. Button, also called Muffy, a long-haired tabby (spayed), is one of the two siblings that came into the family in May 2005. Her brother, a black tuxedo tom (fixed, just like his sis) is called Spider. They were both born on the farm and have lived here ever since. They had a third sibling, Simba, but he got murdered by his own mother who just didn't or couldn't comprehend the weaning process, and instead of teaching them with a swat of a paw or a nip that they couldn't suckle her any more, she killed instead. So she had to be put down, and me any my folks raised Spider and Button ourselves. Both cats are seven years old now. I guess that would be about 49 in human years...
Both cats are just as homey as the other; Spider even more so. Occasionally Muffy will disappear for a day or two, but she always comes back; she knows there's lots of love and food here for her. She's a lot more shy and nervous than him, as she'll only come out of hiding when me or my mom are around, she won't for anyone else. Yep, she's a one-woman cat, and when it's just me or mom out in the garden or pulling weeds or doing something, she's always gotta be right under your nose!
Spider's friendly with everybody, including young children and complete strangers. But he's a squirrel-killer. I think over the past couple of summers he's killed and eaten about 20 squirrels that have wandered into our yard and made themselves known. He'll also guard, fight and chase stray cats away from home. He's a bloody chicken when it comes to rain, big machinery, coyotes and dogs. We do have plenty of coyotes around on the farm, but these two cats are really smart; they know when and where to hide of a stray dog or a wandering 'yote comes passing through! They do have their tiffs, being siblings, but the fights are always very breif; just some hissing, spitting and charging with a short sharp yowl from one or the other and its over.
-
My babies! These are Button and Spider when they're only around 7 weeks old



- Good ol' Spider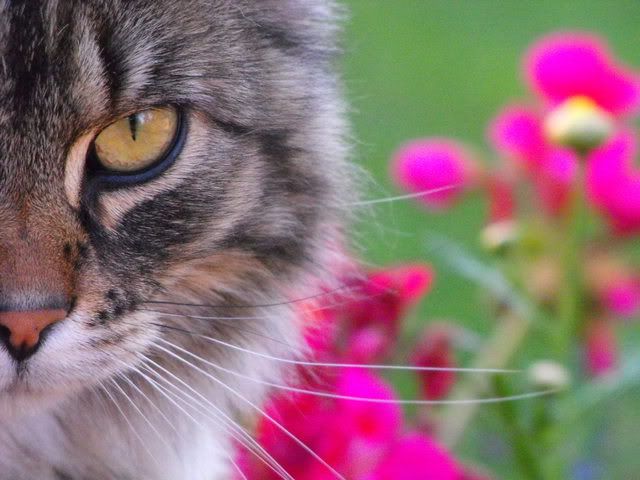 - The Hunter's Look: Button a.k.a Muffy among pink geraniums.
- A curious steer trying to make friends with my other big ol' farm cat, Spider. The dark "thing" on the left is Button.
I would LOVE to have a dog someday. I love German Shepherds and Bernese Mountain dogs, and a dog of any of these type of breeds would be great to have. I know that a GSD is more of a "stronger" breed of dog that requires a person who expresses good calm and assertive behaviour and knows how to properly train them, but I am quite sure I can handle a GSD, provided it has the right energy that I can work with (high energy dogs won't work for me). My cats know when they're not behaving, and they're harder to train than ANY dog. GSD's are smart, loyal, protective, and just all-around great partners to be with. I don't like the little yippy yappy dogs, or those dogs that are ugly and thick-headed like bulldogs, or those that tend to be hyper active like border collies, boxers, etc. The bigger dogs tend to be my favorites, for some odd reason, even though I was bit by a GSD-sized dog when I was 6 years old.

Yes I did get bit by a dog when I was a kid. I had to have 30 stitches done to my face and inside my mouth from that, and wouldn't look at myself in the mirror for weeks when I had those stitches. I admit that it wasn't the dog's fault that I got bit, but it was more mine (and maybe my uncle's) because I trusted too much that that dog would just stand there and let me pet him instead of turning on me and latching on to me like he did. I shouldn't say it was my uncle's fault because I don't even think he knew if that dog was good with kids or not, nor thought that that dog would turn on me like that. It all happened so quick and everyone was caught off guard, so I cannot blame anyone but myself for my innocent stupidity for making that happen.

And you'd think that after that near-death experience that I would hate or not want to have ANYTHING to do with dogs after that, right? Wrong. I did not lose my fear of dogs nor do I hate them, but from that bad experience, I gained so much more respect for them and for their capabilities than I ever have in the past. I know now that it's not wise to approach a strange dog, but to let him come to you. I've also learned to give dogs their space, especially those you don't know, and don't force them into a situation that they are not comfortable with.

When I started watching The Dog Whisperer by Cesar Millan, I learned more things about how to handle and act around strange dogs than I ever have with any other dog book I've read. I've even used his techniques on my cats, with the correct mind set of being calm and assertive, and I'll be damned if it doesn't work! I plan on using these techniques in the future if/when I have or want to be with or communicate with a dog or even a cat. I have a few books of his, one on the first 3 seasons of The Dog Whisperer, and the others include Cesar's Way, A Part of the Family, and Be the Pack Leader. I plan on getting more of his books soon. They're well worth the read, for anybody who owns a dog or two or wants to own a dog.

- Sunset over Shoal Lake, taken from an airplane

I love photography. I love photography so much that I love sharing different photos of things I've taken. I've also recently acquired a good dSLR camera (a Canon Rebel EOS XS) with a couple different lenses for taking *better* pictures, as I haven't been happy with my latest camera, a Fujifilm S1000 (thank God it's off the market, as it's not the greatest nor versatile camera you can have) that I got a few years ago. The two best photos I have shared below is taken from my little Fujifilm point-and-shoot camera, a Fuji A500 camera. I plan on getting, with a bit of tweaking and lots of learning, the same kind of shots below with my new Rebel as I have with my second best camera, the A500 Fujifilm.

A good book for learning about Digital Photography is a 7-books-in-1 book called Digital Photography for Dummies, 2nd edition. I actually bought that book before I was able to get my dSLR camera, its worth the read when trying to figure things out like aperture, f-stops, ISO readings, etc.


- Blue-Eyed Grass
- Winter scenery on a calm day
- Alberta Legislature building among apple blossoms

- After a storm



- Pyramid Mountain overlooking a frozen Pyramid Lake in Jasper National Park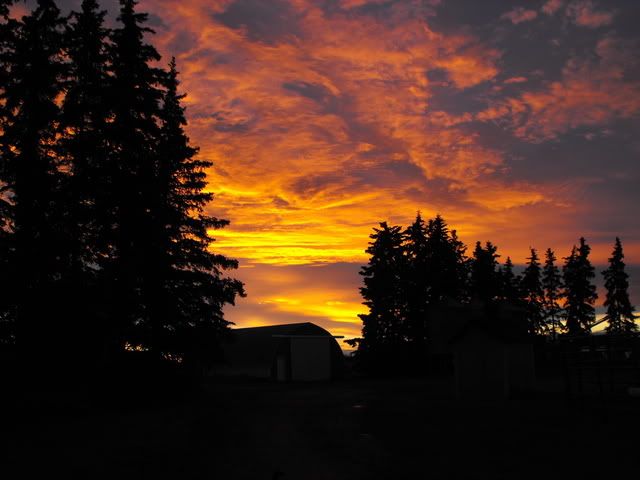 - Sunset over the farm


-Juxtaposition showing one colourful Mountain Ash leaf



-Western Tanager making a stop in its migration north in our Mountain ash tree



-"Pet" Boreal Chickadee

-"Unkown" snowy mountains near Kananaskis in Peter Lougheed Provincial Park, Alberta

I also was (kinda still is) good at art, painting and drawing. But now it seems that drawing only comes when the mood strikes, which is really occasionally (or once or twice a year). I haven't worked on much sketches in a while, but these ones below are just a few of what I've done over the years. A lot of the art work has been self-taught, but I've also taken art classes from school and as an extra-curricular activity to expose myself to the many different types of art work that can be done besides sketching and painting.




- Texas Longhorn bull that I sketched

- Zebra sketch



- Brahman cow



- Wild Horses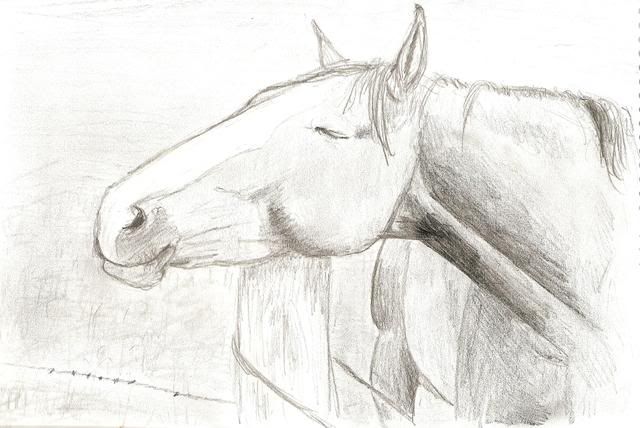 - A good head rest
- Windy and Misty - a couple horses I drew for a friend of mine
I also love music, be it playing music on the piano or listening to it. I love country, but I also love classical. I play primarily classical music on the piano, and have done so since I started when I was in Grade 2 of Elementary School. I haven't quite completed my Grade 9 Repertoire, but I'll get there some day. I like to play pieces by Beethoven, Mozart, Mendelssohn, Bach, Debussy, and a few other lesser-known composers, and I also like to play some jazz and a little contemporary music too. I have two pianos: an upright Yamaha, and an electric Clavinova Yamaha piano. Either one gets played whenever/however I feel.
As far as listening to music, lately listening to country music on the radio is a favourite past time. My favourite artists are the following:
Imagine Dragons (the only non-country favourite band I can attest I actually like)
Corb Lund and the Hurtin' Albertans
Paul Brandt
Zac Brown Band
George Canyon
George Strait
Johnny Reid
Rascal Flatts
Miranda Lambert
John Denver
Alan Jackson
Keith Urban
Brad Paisley
Prairie Oyster
Charlie Major
Lady Antebellum
The Band Perry
And several others...

- Early riser



-Wintery fenceline



-Hereford and Hereford cross cows near the Rocky Mountains west of Calgary, Alberta


My Bachelor of Science in Agriculture degree (majoring in Animal Science--and
NOT the veterinary An Sci!!
) the University of Alberta in a way qualifies me enough to be able to answer a lot of the farm animal questions, but like I mentioned above, my main field of interest and expertise belongs with cows and cattle, and some with horses as well. I have taken 4 years of my major, and am continuing with a fifth year of this major this year (2013-14) after a much-needed four-year break. So far things have been going great. Originally I thought of switching to Conservation Biology or Rangeland Management (which is under the Environmental Sciences department, not Agriculture), but seeing as I only have a few courses left in my Animal Science degree, I'm more focused now on graduating with a BSc in Agriculture (An Sci Major) and may consider the possibility of obtaining a rangeland management major from the U of A in the near-to-distant future.
As a part of my learnings from school, both with grade-school and University, I believe when answering questions, spelling and grammar is important. I can get a little carried away with my answers and sometimes miss out on proper grammar and a little on spelling, so I appreciate those who make those little minor changes to my answers when I occasionally miss out on proper grammar. (And thank God for spell check!) With my Major, I am also able to answer questions as concisely and scientifically as possible without overdoing it, or putting too much information to a question, to the point where you're either not answering the question at all, or answering it in such a way that it directs away from what the question is asking. See, with University, you've got to know how to write papers and thesis's, as well as researching the things needed for those papers. When I'm researching a subject for a paper, more than likely there's a chance I'll learn something new. But here's a list of most of the subjects I took in University that has obviously helped me answer those questions I have come across on WikiAnswers:
Forage and Pasture Management*
Rangeland Management (including philosophies, principles and practices)*
Beef Cattle Science*
Dairy Cattle Science*
Reproductive Physiology of Animals*
Digestive Physiology of Livestock
Physiology of Animals (the topics that aren't covered under reproductive and digestive phys.)
Swine Nutrition
Ruminant Nutrition*
Animal Behaviour/Psychology/Welfare*
Animal Health and Diseases
Companion Animals (including horses, dogs, cats, reptiles and birds)
Soil Science
Plant Science (of basic knowledge of physiology and plant structure)
Crop Science
And others I cannot remember off-hand. The ones that have this (*) are the top subjects you may find me answering questions on most often: questions that range from the factual to the highly controversial.
- Bench in front of the Rutherford House at the University of Alberta in Edmonton, Alberta, Canada.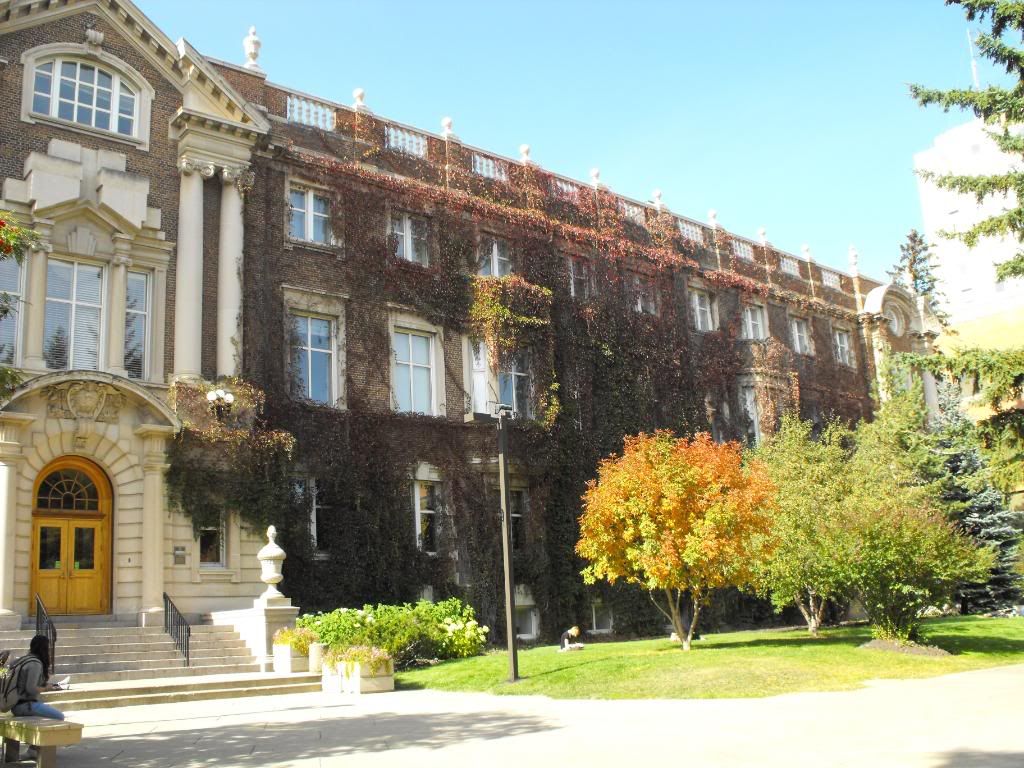 - The old Arts Building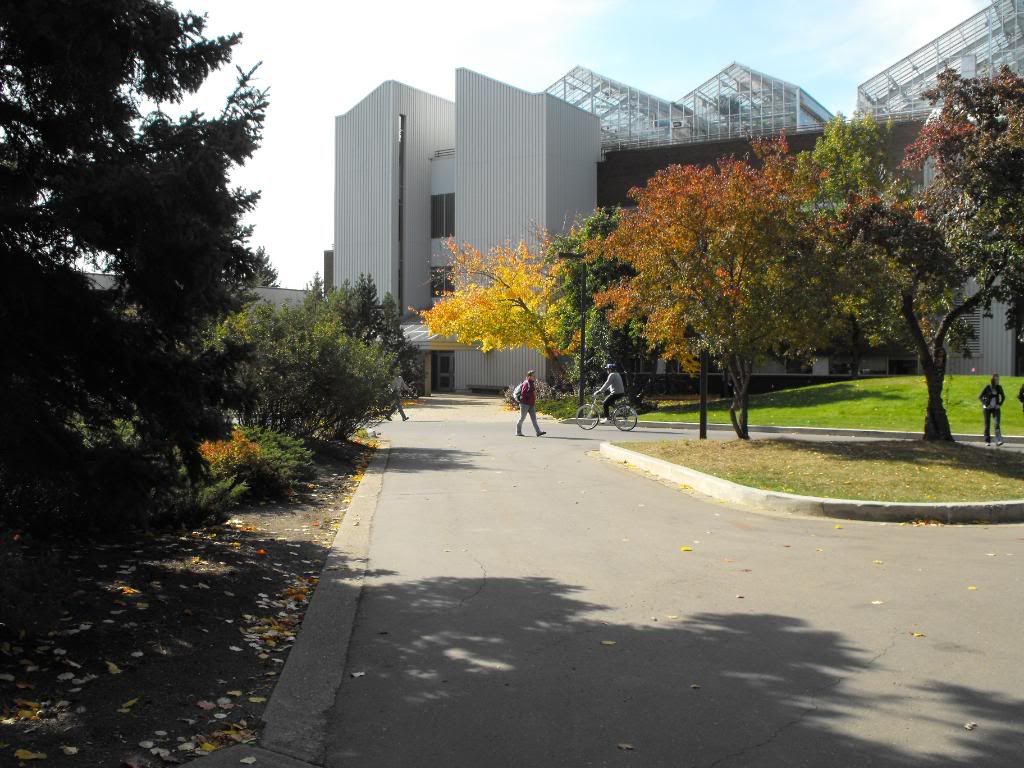 - The Agricultural Sciences building--This is the one I go to the most in my studies


I'll be honest and straight-up here. I love WikiAnswers and I love being a Supervisor, as well as a Mentor. Quite frankly I was very surprised at how quick some anonymous contributor was to recommend me as a Supervisor, even when I had just signed in as a member to WikiAnswers not 3 or 4 days prior to the recommendation. Sure I was surprised, but definitely not disappointed, not to mentioned quite honoured. Originally I had signed on to WikiAnswers to improve the Cows and Cattle category as I found not very many questions that had the kind of answers that should be on there, and because that category just so happened to be my field of interest. And I was hooked from Day One. But never in my life was I ever prepared for the day I got that email from Crystal about being asked to become a Supervisor! So I have to send a much-belated Thank You to that anonymous contributor[s] who put in a recommendation for me.

Now being a Supervisor comes with its challenges. You would think as a contributor there's a lot of things to figure out, but becoming a Supervisor there's even more things to figure out and deal with, everything from warning and blocking vandals to merging and batch splitting questions. One thing that sure helps a lot is having a mentor to guide you through the stages of becoming a good or even a great supervisor. So I have to thank Hooweestik for taking the time to give me guidance and answer any questions I had about the responsibilities that comes with being a Supervisor.

For those of you reading this and thinking and wondering about become a Super yourselves, I have some words of wisdom for you: Don't take it literally, nor take it for granted. Don't abuse your powers either. And don't become a Supervisor just to show people you are smarter or better than others. Becoming a Supervisor is kinda like earning your driver's license--it's a privilege, not a must-have or must-be. Supervisors are chosen because of their good to excellent quality-contributions they've made on this site, and wish to help other current supervisors to make Answers.com a better place. For others, beware of the repercussions that you may face if you abuse your powers. Those other Senior Supervisors have the power to take this away from you if you abuse your powers in the ways of cyber-bullying other contributors or other Supervisors, being overly arrogant, disrespectful and belligerent to others, or just simply not behaving like a good Supervisor should. You could either have the Supervisor powers taken away from you, or be all-together banned from the site. It's sort of like when a police man catches you red-handed drinking and driving and suspends your license for a year or so, and even throws you in jail if the consequences are more serious. Though abusing your Super powers on WikiAnswers won't result in life-or-death situations like that would happen when you drink and drive, you still will get a bad record for your misbehavior.

Of course, being courteous to others, not cyber-bullying or being a "poo" disturber (for lack of a less coarser term) on here goes with ALL other contributors on this site, whether you are signed on as a member or not. If you have signed on for the purpose of vandalizing this site, you will be either warned or blocked. I do not tolerate vandalism on this site, and you will get a warning from me if it's that serious.

Don't come on to my message board telling me to not post on your message board again or whining about why you got warned or "what did I do wrong?" sort of thing. Because if you do I will be more than happy to tell you this: I am a Supervisor. I have every right to warn you and reprimand you for your misbehavior and vandalism. Telling me to not post on your message board again is certainly not going to help matters, as I do not listen to those fools who decide to have some "fun" and post a bunch of bull$h** on here. As to those who whine and "wonder" to me about what they did wrong, read the warning I posted, have a look at the Help Center on Vandalism, and check your contributions to see what you did wrong. Most of the time you already know what you did wrong, and acting dumb or innocent won't get you anywhere. And if you don't care about being kicked off the site, fine. Your loss.

Despite the hard-arsed attitude I have for vandals, I am not all that bad and am always available to help. But always remember: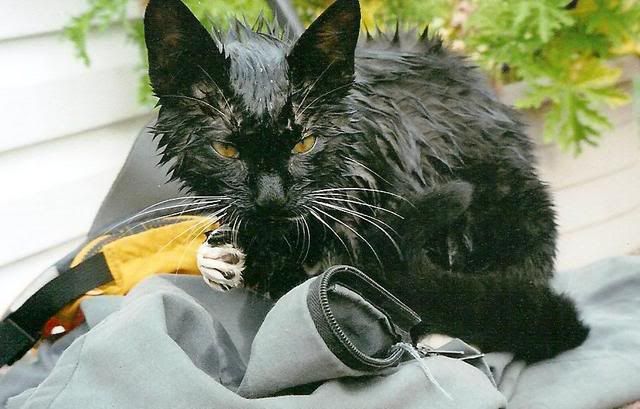 - The result of a young kitty cat (Spider) that got a little too curious at an "innocent-looking" pail of water!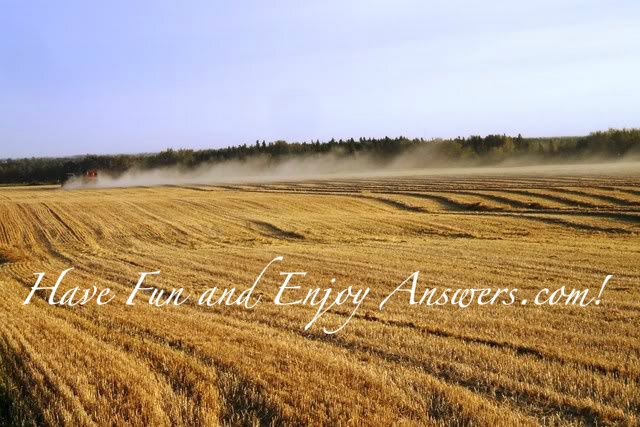 -Dusty field